Series Overview
If your faith were a muscle, how flexible would it be? Could it stretch to your knees? Your shins? Your toes? Or are you not sure you even have any faith to stretch in the first place? Just like your body, if you want a faith that is strong, growing and capable of carrying you through difficult challenges, you're going to need to stretch it. If might be fun! It might be challenging. But it will definitely be worthwhile. In this series, we'll discover four ways we can stretch our faith from Paul, the author of the book of Romans and a man whose life was completely transformed by Jesus. Thanks to Paul's words, we know we can stretch our faith by making a commitment, by starting something new, and by letting something go. We can even stretch our faith when we feel like we've failed.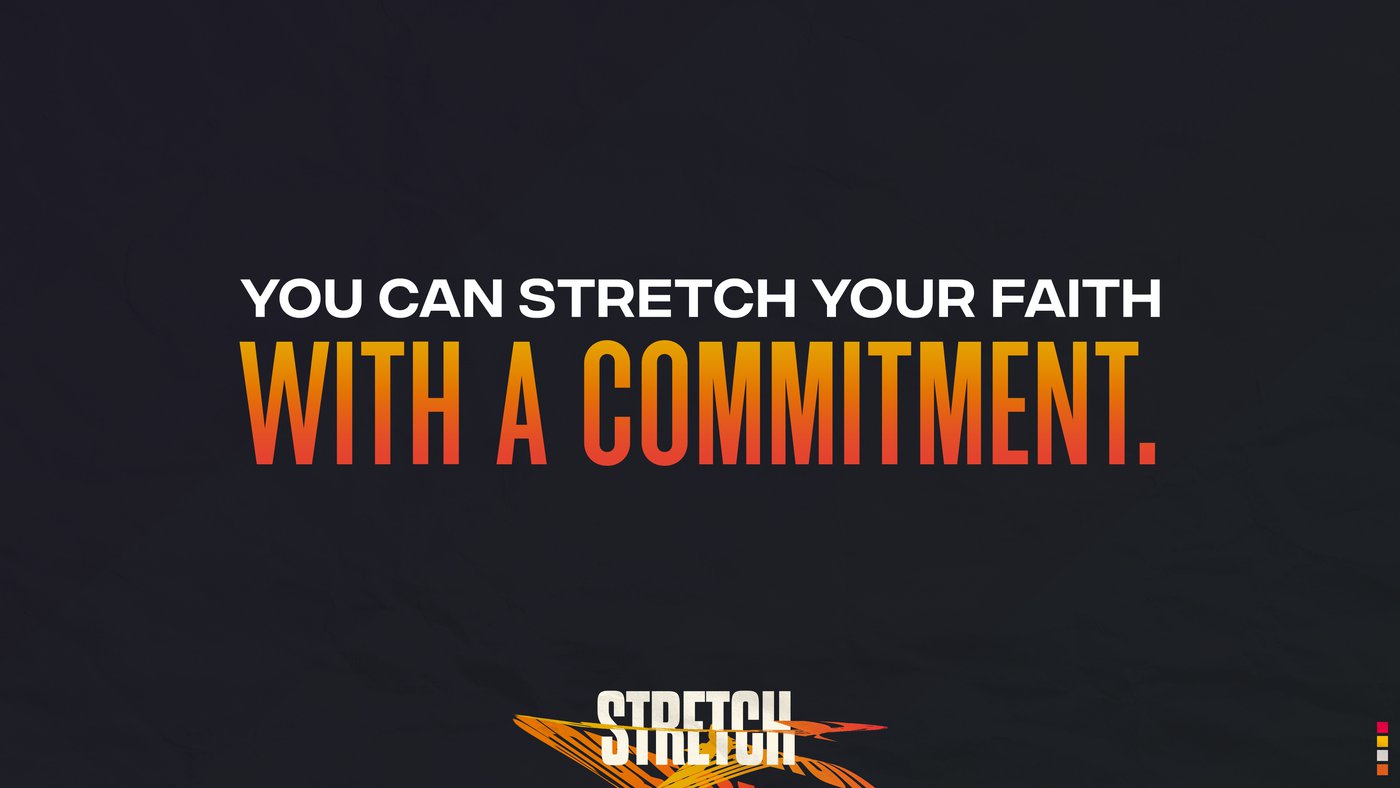 Week 1 (Sept 5)
Stop what you're doing right now and stretch. Seriously, do it! Stretch! It feels pretty good, right? That's because stretching your body helps your muscles stay healthy, flexible, and able to grow. Your faith is kind of like that too. In Scripture, we can learn how to stretch and grow our own faith from the stories and words of the Jesus-followers who've gone before us. There's Peter and Andrew, who dropped everything to followJesus; or Mary Magdalene, who followed Jesus even when things got really difficult; or Paul, whose entire life changed the instant he chose to follow Jesus. These people have pretty extraordinary stories of faith, but they all started in the exact same way: they simply made a commitment. So if you want to stretch your faith, what's a new commitment you could make? To follow Jesus for the first time? To love God more? To love others more?
You can stretch your faith with a commitment. So let's stretch!
Week 2 (Sept. 22)
Have you ever seen those "before and after" posts of body-builders who document their journeys of building muscle and lifting heavier and heavier weights? Those transformations can be pretty drastic, but even the most drastic transformations are the result of something really simple: new habits, like daily workouts, specific foods, and nutrient supplements. And you know what? If you want to grow your faith (and not just your muscles), the same principle applies. You can grow your faith by starting a new habit that helps you spend more time with God(like reading the Bible, praying, or worshiping on your own), but Romans 12 and II Peter 1 tell us about some other habits that will help our faith grow too, and they're all about loving each other well. So do you want to stretch your faith?
You can, by starting something new— like a habit that helps you love God and love others better.
Week 3 (Sept. 29)
Okay, let's be honest. We all have a bad habit or two, don't we? Whether it's biting your nails, daydreaming, checking your phone, complaining, talking badly about others, or maybe something even more self-destructive, we all know how hard it can be to break a bad habit. Most of our bad habits don't directly impact our spiritual health, but the truth is, some of them do. The apostle Paul knew this was true, so he gives us a list of "don't"s in Romans 12 — a list of behaviors that we need to let go of and walk away from, like pride, holding grudges, looking for revenge, and letting sin control you. So if you want to see your faith stretch and grow stronger, let go — detach from the habits that are pulling you away from God so you can grab onto new habits that will pull you close again.
You can stretch your faith by letting something go.
Week 4 (Oct. 6)
Have you ever failed? Like, big time? Have you ever felt like you've failed God? I know I have! Those moments can leave us feeling defeated, ashamed, or hopeless, but today I want to challenge you to think about failure differently. What if failure isn't something to fear or be ashamed of? What if failure can actually help our faith grow? The Bible is full of people who failed God in huge ways, but who God never gave up on. Paul talked about this in II Corinthians 12, saying he struggles to do what's right and can't stop doing what's wrong. And for that, he says he's thankful, because his weaknesses bring him closer to Jesus. When you fail like Paul often did, you have two choices. You can let shame, frustration, and hopelessness knock you down. Or you can let God use your failure to make your faith grow stronger. Remember, you can stretch your faith even when you fail.
Don't Miss Out On the Minute Sermons!